Cookie preferences
This website uses cookies, which are necessary for the technical operation of the website and are always set. Other cookies, which increase the comfort when using this website, are used for direct advertising or to facilitate interaction with other websites and social networks, are only set with your consent.
These cookies are necessary for the basic functions of the shop.
"Allow all cookies" cookie
"Decline all cookies" cookie
Customer-specific caching
These cookies are used to make the shopping experience even more appealing, for example for the recognition of the visitor.
16 Ventile: 8x Einlassventil, 8x Auslassventil VW 1,4 16V inkl Schaftdichtungen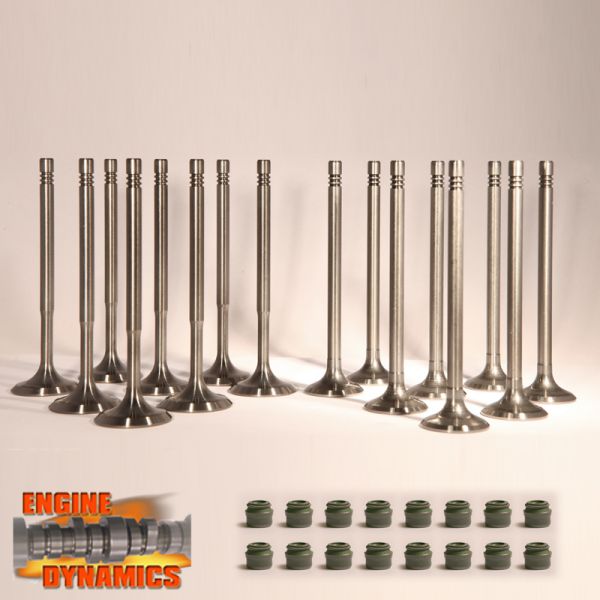 Order number:

121-0507-00-V16
Ventilsatz passend z.B. für VW/Audi/Seat AFK AJV ANM Auch für: Audi A1 A2 A3...
more
Ventilsatz passend z.B. für VW/Audi/Seat AFK AJV ANM

Auch für:
Audi A1 A2 A3
Seat Altea Arosa Cordoba Ibiza Inca Leon Toledo
Skoda Fabia Octavia Roomster Superb
8x Einlaßventil:
Dimensionen:
29,5x6,0x100,9

8x Auslaßventil:
Dimensionen:
26,0x6,0x100,5

inklusive 16x Ventilschaftdichtung / Schaftabdichtung
Markenprodukt in Erstausrüsterqualität!
Qualitätsprodukt aus europäischer Produktion!
Seit 1984 werden Fachhändler, Motoreninstandsetzungsbetriebe und Motorenhersteller in ganz Europa mit unseren hochwertigen Komponenten beliefert.
Sie erhalten Eigenentwicklungen und Produkte führender Hersteller, welche selbstverständlich auch in der Erstausrüstung der Fahrzeug- und Luftfahrtindustrie aktiv sind.
-Profitieren Sie von 30 Jahren Erfahrung mit Motorenkomponenten!
-Nutzen Sie die kurzen Reaktionszeiten durch unser bestens sortiertes Lager in Kirchberg bei Stuttgart!


Vergleichsnummern:

| | |
| --- | --- |
| Referenznummer | Hersteller |
| 036.109.601AD | VW/Audi/Seat |
| 036.109.601S | VW/Audi/Seat |
| 39522 | TRW |
| 50009028 | Kolbenschmidt |
| V94116 | AE |
| | |
| --- | --- |
| | |
| Referenznummer | Hersteller |
| V94117 | AE |
| 036.109.611K | VW/Audi/Seat |
| 39523 | TRW |
| 50009029 | Kolbenschmidt |

Die angegebenen Referenznummern dienen lediglich zu Vergleichszwecken. Diese Daten dienen keinesfalls als Herkunfts- oder Markenbezeichnung! Die genannten Marken sind Eigentum der jeweiligen Markeninhaber!

Verwendet in folgenden Motoren:

| | | | | |
| --- | --- | --- | --- | --- |
| Hersteller | Kennbuchstabe | Hubraum | Leistung_Kw | Kraftstoff |
| AUDI | AUA | 1390 | 55 kw | Benzin |
| AUDI | BAD | 1598 | 81 kw | Benzin |
| AUDI | BAG | 1598 | 85 kw | Benzin |
| AUDI | BBY | 1390 | 55 kw | Benzin |
| AUDI | BLF | 1598 | 85 kw | Benzin |
| AUDI | BLP | 1598 | 85 kw | Benzin |
| AUDI | CAXA | 1390 | 90 kw | Benzin |
| AUDI | CAXC | 1390 | 92 kw | Benzin |
| AUDI | CMSA | 1390 | 92 kw | Benzin |
| SEAT | AFK | 1390 | 74 kw | Benzin |
| SEAT | AHW | 1390 | 55 kw | Benzin |
| SEAT | ANM | 1390 | 74 kw | Benzin |
| SEAT | APE | 1390 | 55 kw | Benzin |
| SEAT | AQQ | 1390 | 74 kw | Benzin |
| SEAT | ATN | 1598 | 77 kw | Benzin |
| SEAT | AUA | 1390 | 55 kw | Benzin |
| SEAT | AUB | 1390 | 74 kw | Benzin |
| SEAT | AUS | 1598 | 77 kw | Benzin |
| SEAT | AXP | 1390 | 55 kw | Benzin |
| SEAT | AZD | 1598 | 77 kw | Benzin |
| SEAT | AZQ | 1198 | 47 kw | Benzin |
| SEAT | BBY | 1390 | 55 kw | Benzin |
| SEAT | BBZ | 1390 | 74 kw | Benzin |
| SEAT | BCA | 1360 | 55 kw | Benzin |
| SEAT | BCB | 1598 | 77 kw | Benzin |
| SEAT | BKY | 1390 | 55 kw | Benzin |
| SEAT | BME | 1198 | 47 kw | Benzin |
| SEAT | BTS | 1598 | 77 kw | Benzin |
| SEAT | BXV | 1198 | 51 kw | Benzin |
| SEAT | BXW | 1390 | 63 kw | Benzin |
| SEAT | BZG | 1198 | 51 kw | Benzin |
| SEAT | CAVA | 1390 | 110 kw | Benzin |
| SEAT | CAVE | 1390 | 132 kw | Benzin |
| SEAT | CAVF | 1390 | 110 kw | Benzin |
| SEAT | CAXA | 1390 | 90 kw | Benzin |
| SEAT | CAXC | 1390 | 92 kw | Benzin |
| SEAT | CGGB | 1390 | 63 kw | Benzin |
| SEAT | CGPA | 1198 | 51 kw | Benzin |
| SEAT | CGPB | 1198 | 44 kw | Benzin |
| SKODA | AUA | 1390 | 55 kw | Benzin |
| SKODA | AUB | 1390 | 74 kw | Benzin |
| SKODA | AXP | 1390 | 55 kw | Benzin |
| SKODA | AZQ | 1198 | 47 kw | Benzin |
| SKODA | BBY | 1390 | 55 kw | Benzin |
| SKODA | BBZ | 1390 | 74 kw | Benzin |
| SKODA | BCA | 1360 | 55 kw | Benzin |
| SKODA | BLF | 1598 | 85 kw | Benzin |
| SKODA | BME | 1198 | 47 kw | Benzin |
| SKODA | BTS | 1598 | 77 kw | Benzin |
| SKODA | BUD | 1390 | 59 kw | Benzin |
| SKODA | BXW | 1390 | 63 kw | Benzin |
| SKODA | BZG | 1198 | 51 kw | Benzin |
| SKODA | CAVE | 1390 | 132 kw | Benzin |
| SKODA | CAXA | 1390 | 90 kw | Benzin |
| SKODA | CAXC | 1390 | 92 kw | Benzin |
| SKODA | CEVA | 1198 | 51 kw | Benzin |
| SKODA | CGGA | 1390 | 59 kw | Benzin |
| SKODA | CGGB | 1390 | 63 kw | Benzin |
| SKODA | CGPA | 1198 | 51 kw | Benzin |
| SKODA | CGPB | 1198 | 44 kw | Benzin |
| SKODA | CHTA | 1198 | 51 kw | Benzin |
| VOLKSWAGEN | AFK | 1390 | 74 kw | Benzin |
| VOLKSWAGEN | AHW | 1390 | 55 kw | Benzin |
| VOLKSWAGEN | AJV | 1598 | 88 kw | Benzin |
| VOLKSWAGEN | AKQ | 1390 | 55 kw | Benzin |
| VOLKSWAGEN | ANM | 1390 | 74 kw | Benzin |
| VOLKSWAGEN | APE | 1390 | 55 kw | Benzin |
| VOLKSWAGEN | AQQ | 1390 | 74 kw | Benzin |
| VOLKSWAGEN | ARC | 1598 | 92 kw | Benzin |
| VOLKSWAGEN | ARR | 1390 | 77 kw | Benzin |
| VOLKSWAGEN | ATN | 1598 | 77 kw | Benzin |
| VOLKSWAGEN | AUA | 1390 | 55 kw | Benzin |
| VOLKSWAGEN | AUB | 1390 | 74 kw | Benzin |
| VOLKSWAGEN | AUS | 1598 | 77 kw | Benzin |
| VOLKSWAGEN | AVY | 1598 | 92 kw | Benzin |
| VOLKSWAGEN | AXP | 1390 | 55 kw | Benzin |
| VOLKSWAGEN | AXU | 1390 | 63 kw | Benzin |
| VOLKSWAGEN | AZD | 1598 | 77 kw | Benzin |
| VOLKSWAGEN | AZQ | 1198 | 47 kw | Benzin |
| VOLKSWAGEN | BAD | 1598 | 81 kw | Benzin |
| VOLKSWAGEN | BAG | 1598 | 85 kw | Benzin |
| VOLKSWAGEN | BBY | 1390 | 55 kw | Benzin |
| VOLKSWAGEN | BBZ | 1390 | 74 kw | Benzin |
| VOLKSWAGEN | BCA | 1360 | 55 kw | Benzin |
| VOLKSWAGEN | BCB | 1598 | 77 kw | Benzin |
| VOLKSWAGEN | BKG | 1390 | 66 kw | Benzin |
| VOLKSWAGEN | BKY | 1390 | 55 kw | Benzin |
| VOLKSWAGEN | BKY | 1390 | 55 kw | Benzin |
| VOLKSWAGEN | BLF | 1598 | 85 kw | Benzin |
| VOLKSWAGEN | BLG | 1390 | 125 kw | Benzin |
| VOLKSWAGEN | BLN | 1390 | 66 kw | Benzin |
| VOLKSWAGEN | BLP | 1598 | 85 kw | Benzin |
| VOLKSWAGEN | BME | 1198 | 47 kw | Benzin |
| VOLKSWAGEN | BMY | 1390 | 103 kw | Benzin |
| VOLKSWAGEN | BTS | 1598 | 77 kw | Benzin |
| VOLKSWAGEN | BUD | 1390 | 59 kw | Benzin |
| VOLKSWAGEN | BWK | 1390 | 110 kw | Benzin |
| VOLKSWAGEN | BXV | 1198 | 51 kw | Benzin |
| VOLKSWAGEN | BZG | 1198 | 51 kw | Benzin |
| VOLKSWAGEN | CAVA | 1390 | 110 kw | Benzin |
| VOLKSWAGEN | CAVB | 1390 | 125 kw | Benzin |
| VOLKSWAGEN | CAVC | 1390 | 103 kw | Benzin |
| VOLKSWAGEN | CAVD | 1390 | 118 kw | Benzin |
| VOLKSWAGEN | CAVE | 1390 | 132 kw | Benzin |
| VOLKSWAGEN | CAXA | 1390 | 90 kw | Benzin |
| VOLKSWAGEN | CGGA | 1390 | 59 kw | Benzin |
| VOLKSWAGEN | CGGB | 1390 | 63 kw | Benzin |
| VOLKSWAGEN | CGPA | 1198 | 51 kw | Benzin |
| VOLKSWAGEN | CGPB | 1198 | 44 kw | Benzin |